| | | |
| --- | --- | --- |
| " | Hi, Josh! | " |
| | ~ Lana's usual catchphrase to her lover Josh | |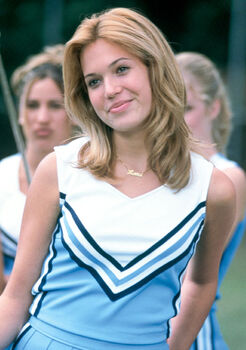 Lana Thomas is one of the main antagonists in The Princess Diaries, but it isn't known whether she is the central adversary or not. She is a bully to Mia, the protagonist of the film. Lana is the school mean girl. Lana and two of her friends had embarrassed her in front of a paparazzi, resulting in photos of Mia in nothing but a towel. For this, her defeat is that Mia smears chocolate ice cream on her cheerleading outfit.
She was portrayed by Mandy Moore.
Biography
Lana is seen at the beginning of the film at Grove high school cheering with her henchmen/best friends Anna and Montana while her lover Josh shows off by scaling the walls of the high school entryway. Later, she is seen making out with her lover Josh whom Mia harbors a crush on and often fantasizes about kissing with. After Mia tries to give a presentation to the entire class about sticking to casual dress code and wearing proper school uniforms, Lana is seen in the crowd with Anna and Montana openly mocking Mia of her appearance, calling her a "fuzz ball" then she and the Lanettes encourage everyone to cheer while Mia runs out of the room to vomit from her stage fright.
After Mia is given a new makeover because her newfound royal heritage but is unable to tell anyone about it, she arrives at school wearing a hat and Lana, seeing this as an opportunity to humiliate Mia, reminds the whole class that hats are forbidden to be worn in the school and Mia is reluctantly asked to remove her hat, debuting her new long lush hairstyle. Seeing this, Lana and her friend decide to once again openly mock Mia of her appearance this time because shi is more beautiful then she was previously. Lana sees this new transformation as Mia trying to "fit it" with the popular girls and mocks her, asking her loudly if her new hair is a wig. Lana and her friends are all interrupted by Mia's friend Lily before they are all asked to quiet down and not talk rudely about Mia's appearance, much to Lana's dismay.
Trivia
Quotes
| | | |
| --- | --- | --- |
| " | Mia, you are such a FREAK!!! | " |
| | ~ Lana's reaction to Mia standing up to her and smearing ice cream all over her cheerleading outfit | |
| | | |
| --- | --- | --- |
| " | Miss Watson, did you see what she did to me?! | " |
| | ~ Lana's last words as she whines to the principle about Mia ruining her cheerleading outfit and embarrassing her | |
Ad blocker interference detected!
Wikia is a free-to-use site that makes money from advertising. We have a modified experience for viewers using ad blockers

Wikia is not accessible if you've made further modifications. Remove the custom ad blocker rule(s) and the page will load as expected.