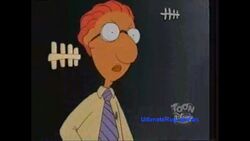 Assistant Vice-principal Lamar Bone
is the stereotypical "mean principal" of Doug's schools and is one of Doug's antagonists from Nickelodeon and Disney follow-up series,
Doug
. He is generally uptight and serious about his job, and commonly threatens to put the smallest mistakes on permanent records (similar to
Principal Wartz
). He enjoys yodeling and clog dancing which has earned him many trophies, which he has kept at Bluffington Elementary. His appearance and speech are similar to that of Don Knotts. He has a nephew named Percy Femur who visits him on occasion. He appears to be a much more aggressive bully than
Roger
is. Doug imagines him as any types of villains such as Robobone, Rulemeister and The Quizler.
Ad blocker interference detected!
Wikia is a free-to-use site that makes money from advertising. We have a modified experience for viewers using ad blockers

Wikia is not accessible if you've made further modifications. Remove the custom ad blocker rule(s) and the page will load as expected.