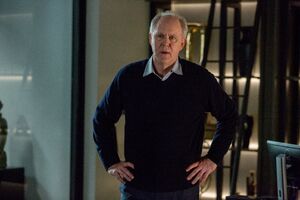 | | | |
| --- | --- | --- |
| " | Do you consider what you do important, Mr. Wolff? To someone other than yourself?, I mean. What I do is. Living Robotics' public offering would've been worth billions. Money to be used for neuroprosthetics, nanotechnology. You....(sighs) Why in god's name did I ever hire you? (Christian: To leak-proof your books. Dana found a mistake, and you wanted to be sure it was safe to go public. And now you want to kill her.) I'm fond of Dana. But I restore lives, not Dana! Me! Men, women, children, I give them hope. Make them whole. Do you even know what that's like? (Christian: Yes, I do.) | " |
| | ~ Blackburn's last words, before being killed by Wolff. | |
Lamar Blackburn is the main antagonist of the 2016 film The Accountant. He is the CEO of Living Robotics whom Christian Wolff was briefly investigating and discovered he had been embezzling money in his company through creative accounting.
He was portrayed by John Lithgow, who also portrays Earl Talbot Blake in Ricochet and Eric Qualen in Cliffhanger. He also portrayed The Trinity Killer, the main antagonist in the fourth season of the TV series, Dexter.
Role in film
Edit
Lamar Blackburn is the CEO of Living Robotics in Illinois, USA. After his sister Rita is informed of a possible embezzlement inside the company, she hires accountant Christian Wolff to investigate. Blackburn later meets Christian Wolff, after Wolff had a meeting with CFO Ed Chilton.
Then, when one of his associates discovers Wolff had wrote down on the conference room's white board and windows all the money the company had been making, suspecting embezzlement at one point in the past ten years, Blackburn orders the assassin Braxton to kill Chilton by making it look like an accident, in order to make it seem like Chilton is responsible for the embezzlement. Blackburn also secretly orders two janitors to clean the walls on which Wolff wrote his suspicions and ends Wolff's contract to prevent him from investigating further. Although he acts distraught after learning of Chilton's death, he later orders the assassin to kill both Wolff and his employee Dana Cummings, who incidentally found evidence for the embezzlement at Living Robotics. 
Christian later realizes that the true plan behind the embezzlement was to reinvest the embezzled money in affiliated companies in order to raise Living Robotics' stock price. He and Dana believe Rita to be behind the embezzlement but when they arrive at her house, they find her dead - murdered by the Braxton on Lamar's orders.
As Wolff is now aware that Blackburn is behind everything, Lamar orders Braxton to protect him at his house. Braxton rounds up his men and dispatches them around and in Blackburn's house. Wolff indeed does arrive and takes out every single men guarding the house. Watching through the security camera monitors, Blackburn pleads with the Assassin to deal with him forsaking his own life. When it comes down to the Assassin and Wolff, Blackburn discovers their connection through the screens with the Assassin proving to be Braxton Wolff, Christian's brother. Blackburn storms the room and tries to explain his actions to the two, claiming that his embezzlement was for the greater good as his company could thus help thousands of people. However, Christian immediately shoots Blackburn in the head, killing him.