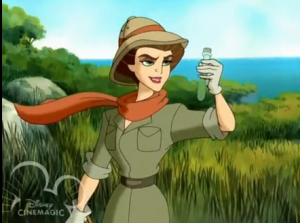 Lady Waltham is a former antagonist in The Legend of Tarzan. She is an aristocratic lady and the sister of the deceased Clayton who wants revenge on Tarzan for killing her brother - at least, in her own mind.
He had her valet Hobson capture those close to him and she then poisoned Tarzan. Tarzan was then given a challenge by Lady Waltham which was either save those he is close to from danger or head to a mountain she dubbed "Clayton's Peak" where the antidote is. Though Tarzan managed to save his friends and family, he then ended up saving Lady Waltham from the leopards Nuru & Sheeta. Afterwards, she gave Tarzan the antidote knowing that Tarzan didn't "kill" her brother.
Ad blocker interference detected!
Wikia is a free-to-use site that makes money from advertising. We have a modified experience for viewers using ad blockers

Wikia is not accessible if you've made further modifications. Remove the custom ad blocker rule(s) and the page will load as expected.