Ad blocker interference detected!
Wikia is a free-to-use site that makes money from advertising. We have a modified experience for viewers using ad blockers

Wikia is not accessible if you've made further modifications. Remove the custom ad blocker rule(s) and the page will load as expected.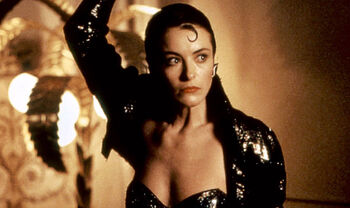 Sylvia Marsh is the main antagonist in 1988 British horror The Lair of the White Worm. She was played by Amanda Donohoe
Summary
The enigmatic Lady Sylvia is the immortal priestess to the snake god Dionin, which, as James suspected, survives beneath the house in the caves which connect with Stonerich Cavern. She steals the skull and later abducts Eve to be the latest sacrificial offering to her god, but her actions are discovered and Angus with the help of James manages to rescue Eve and destroy both Sylvia and the worm; but the two are both contaminated, and so will be carrying on the snakelike vampiric condition..
Gallery