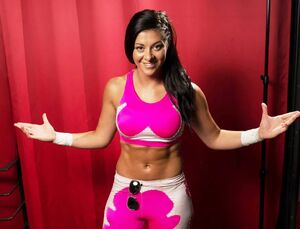 Lady Penelope
(simply referred to as 
Penelope
) is a British professional wrestler competing in the Bellatrix promotion.
Penelope competed as a babyface for nearly her entire career in WAWW/Bellatrix, but she turned into a villainess after Bellatrix 9 and heading into Bellatrix 10 in 2014. A month after losing to Lady Lory in the first round of the Queen of the Ring, Penelope made her heel turn by aligning with Bellatrix's villainous co-owner, Axl Lynch, as well as RQW European Champion Sammi Baynz, with her motivation being wanting to reach the top and become champion. At Bellatrix 10 on September 28, Penelope defeated Violet O'Hara in her first bout as a villainess, a British Rules Match to win the British Ladies Championship. Penelope won two falls to one, with her falls coming in the second and sixth rounds. Later in the event, Penelope appeared during Miss Mina's match against Skarlett and caused a slight distraction that led to Mina losing her match. After the match ended, the evil Penelope attacked Mina with her newly won championship belt. Weeks after Bellatrix 10, Penelope took a hiatus from wrestling and vacated the British Ladies Championship.
Penelope's villainous traits included arrogance and being an opportunist, which was shown when she made her alliance with Axl Lynch.
Gallery