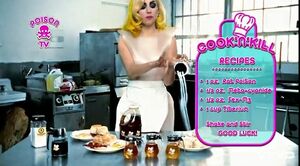 Lady Gaga portrays a fictional version of herself in the music videos Paparazzi and Telephone, which are both parts of the same story in which she is a serial killer. In the former, she murders her boyfriend by giving him a drink which was poisoned with deadly powder from inside her ring, seemingly as "revenge" for him causing her to fall off a balcony earlier while trying to forcibly let the paparazzi get pictures of them (this is the only actual connection between the content of the video and the song itself), which caused her career to be ruined. The murder somehow makes Gaga a popular celebrity again, and newspapers claim her innocence. It is strongly implied that she also killed several other women, mainly house servants, presumably to cover up her main crime, obviously crossing the Moral Event Horizon in doing so.
In the second video, Lady Gaga is in prison after her murder is discovered, but she is bailed out by Beyonce, who also has murderous tendancies, and the two drive to a busy restaurant in the middle of a desert where, for literally no reason whatsoever, Lady Gaga poisons all the food in the kitchen, killing everyone in the diner, and then dancing to the song "Telephone", which has literally NOTHING to do with the music video, around their corpses. The mass homicide is reported on the news, and the special forces are called in to the scene of the crime, but Lady Gaga and Beyonce have already began to get away. The end of the video shows a "To be continued..."
Ad blocker interference detected!
Wikia is a free-to-use site that makes money from advertising. We have a modified experience for viewers using ad blockers

Wikia is not accessible if you've made further modifications. Remove the custom ad blocker rule(s) and the page will load as expected.