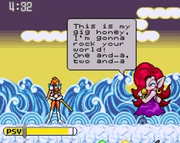 Kroakie Kate
is the second boss in Kendo Rage, she resembled a singer in mannerisms and appearance.
Kroakie Kate attacked with various missiles and projectile-weapons, she could also apparently levitate and attacked Jo for no apparent reason other than malice (as can, presumably, be said for many bosses in video-games - especially when the plot is somewhat confusing and/or lacking).
In the end she was defeated fairly easily in battle and didn't prove that much of a threat.
Kroakie Kate returned in stage 7 as part of a "Boss Rush" and sought revenge on Jo for "stealing her line" but was once again defeated.
Ad blocker interference detected!
Wikia is a free-to-use site that makes money from advertising. We have a modified experience for viewers using ad blockers

Wikia is not accessible if you've made further modifications. Remove the custom ad blocker rule(s) and the page will load as expected.