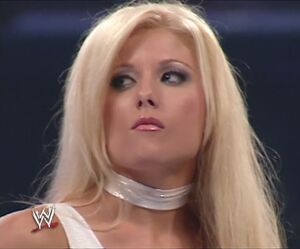 Krissy Vaine 
is a retired female professional wrestler best known for her brief appearance as a villainess on WWE's 
SmackDown
program in 2007. 
Before her villainous main roster debut, Krissy competed for WWE's developmental territory (at the time), Deep South Wrestling, also portraying a villainess. Krissy also served as the promotion's General Manager, and she engaged in feuds with Angel Williams and Tracy Taylor, among others.
It was on September 28, 2007 that Krissy finally debuted on WWE TV, doing so after a match between Torrie Wilson and Victoria on that night's SmackDown. After Torrie lost her match, the evil Krissy appeared and attacked Torrie both in and out of the ring, laughing maniacally while doing so. Krissy appeared on the following week's edition of SmackDown in a segment with General Manager Vickie Guerrero, negotiating her debut match on the program. However, that would be Krissy's last appearance on WWE TV, as she requested her release from the company just days later.
Krissy competed in several independent promotions since leaving WWE, most recently Women Superstars Uncensored. She changed her ring name to Kristin Astara, but she still maintained her villainous persona. In her last match for WSU, Kristin cheated her way to a DQ victory over former WWE Diva Jillian Hall. Krissy retired from wrestling in 2011.
Trivia
WWE.com listed Krissy Vaine at #10 on their list of top 12 "One-Hit Wonders."
Gallery