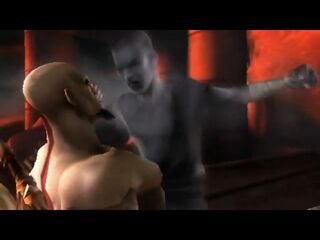 Kratos' Ghost is a minor villain in God of War Ghost of Sparta. It appears as a mini-boss after Kratos enters the Temple of Ares.
Appearance
The Ghost resembles the younger version of Kratos before he acquired his scar and tattoos.
God of War Ghost of Sparta
After Kratos entered the Temple of Ares, he comes across a mirror behind the throne. When he looked into the mirror, his reflection appeared, and it changed into his younger self. When Kratos got too close to the mirror, Kratos' Ghost grabs Kratos and proceeds to attack him furiously while blaming him for Deimos' disappearance. After Kratos threw the ghost into the mirror in several different directions, Kratos attempted to push the ghost back into the mirror. He was successful in destroying both the mirror and the reflection itself. When the mirror broke, Kratos retrieved the Skull of Keres from the hole where the mirror was originally.