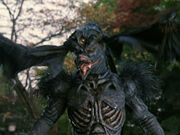 A Doras Monster created by Doras, he was a black bat-like entity. Koumori Man was black, had small-but-long bat wings for ears that covered its head when not in flight, and an eye on each hand much like Doras. Koumori Man could extend its fingers to form wings for flight. It could also disguise itself is as any human. It took on the likeness of Mochizuki to trick Hiroshi and take him to its master's hideout. ZO killed Koumori Man easily with a ZO Punch by bursting into the monster's stomach.
Ad blocker interference detected!
Wikia is a free-to-use site that makes money from advertising. We have a modified experience for viewers using ad blockers

Wikia is not accessible if you've made further modifications. Remove the custom ad blocker rule(s) and the page will load as expected.