Kotemon
is a minor villain in Digimon Xros Wars.
Appearance
Kotemon is a small Rookie Class Digimon that resembles a creature with a kendo outfit.
Digimon Xros Wars
Kotemon was one of Musyamon's soldiers in Digimon Xros Wars. He was quickly taken out by Dorulumon.
Attacks
Trivia
Kotemon can Digivolve into, Dinohyumon, Kyukimon, Musyamon, or Gladimon
Kotemon's In-Training form is Kapurimon
Digixros Form
Evolutions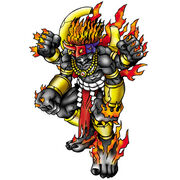 Ad blocker interference detected!
Wikia is a free-to-use site that makes money from advertising. We have a modified experience for viewers using ad blockers

Wikia is not accessible if you've made further modifications. Remove the custom ad blocker rule(s) and the page will load as expected.