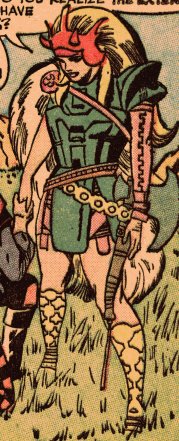 Though human sized, Knorda is an Asgardian queen of the Mountain Giants and possesses superhuman strength and durability, as well as being highly resistant to cold, aging and conventional disease. Given her garment, one would speculate that she is an experienced warrior. When Arkin the Weak tells Knorda that Thor was banished by Odin she leads her people and Arkin into combat though she is defeated when it is revealed that Thor's banishment is a ruse. In defeat she offers her axe and tells Arkin to never speak to her again.
Ad blocker interference detected!
Wikia is a free-to-use site that makes money from advertising. We have a modified experience for viewers using ad blockers

Wikia is not accessible if you've made further modifications. Remove the custom ad blocker rule(s) and the page will load as expected.