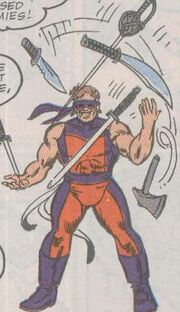 Knickknack is a minor villain in the Marvel comics universe.  Nick Grossman was the fourth recruit of the Death-Throws, a group of costumed mercenaries and jugglers gathered and led by the Ringleader. The other two members were brothers Oddball and Tenpin. Although the Death-Throws valued teamwork more than other villain groups, Oddball suddenly broke up with the Death-Throws for unknown reasons. Tenpin found him after a while, and took him back to the Death-Throws. While solo, Oddball had began to work with another criminal juggler, Bombshell, and had convinced her to join the Death-Throws.
Ad blocker interference detected!
Wikia is a free-to-use site that makes money from advertising. We have a modified experience for viewers using ad blockers

Wikia is not accessible if you've made further modifications. Remove the custom ad blocker rule(s) and the page will load as expected.