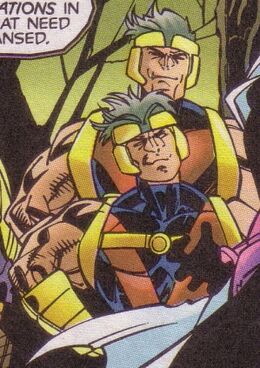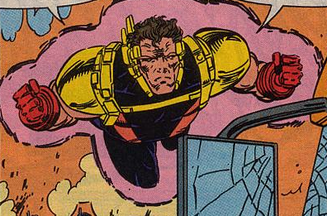 ✔



Click To Help Darkseid!

Darkseid has declared that this article requires immediate Cleanup in order to meet a higher standard.
Help improve this article by improving formatting, spelling and general layout - least it fall victim to an Omega Effect


✔
The Kleinstocks were a set of triplets that are comic book fictional characters, and are mutant supervillains, in the Marvel Comics universe. The three brothers' names are Harlan, Sven and Eric, and they were created by Scott Lobdell and Brandon Peterson and first appeared in Uncanny X-Men #298 (March 1993). In their first mission with the Acolytes, they were sent along with Cargill and Carmella Unuscione to kidnap a young mutant. While attempting the kidnapping, they murdered Sharon Friedlander, a former staff member at Charles Xavier's School for Gifted Youngsters. In the moment before she died, Sharon managed to send a psionic cry for help to Xavier. Based upon this, Xavier sent a squad of X-Men to investigate. During the battle between the Acolytes and the X-Men, Eric was shot and killed by Tom Corsi, another former staff member from Xavier's school. After discovering the mutant they were sent to kidnap had Down syndrome, the Acolytes abandoned their mission.
Despite losing their brother, Harlan and Sven continued to serve with the Acolytes. During the destruction of Avalon by Holocaust, the surviving two were among the Acolytes who evacuated to Earth with the X-Man Cyclops. They crash landed in the Australian Outback, where they managed to get to the X-Men's former base of operations. Once help arrived, they turned themselves over to the authorities.
They were able to escape prison and rejoined the Acolytes under the leadership of Fabian Cortez. These Acolytes were involved in attacks on Wundagore mountain. Some time later, they were involved in an attack on the X-Mansion with a group of Acolytes. At the end of the battle, they asked for sanctuary with Xavier, which was denied. They eventually rejoined the Acolytes under Magneto's command, when he was given leadership over Genosha.
Television History
The Kleinstock Brothers appear in the Wolverine and the X-Men episode "Battle Lines". They are part of Magneto's Acolytes and are shown breaking mutants out of MRD Facility Delta in the south.