Kitsune is an antagonist in Adventure Quest Worlds. He was the Fourth Lord Of Chaos in the game's mythos. At first, he was one of the loyal guards of Emperor Daishyo of Yokai Island. He was part of divine protection from outsiders including Chaos. According to Hashi Hime telling to the hero, he and Daishyo worked as brothers and partners to help ensure a safe haven for living creatures.
When he found out that the emperor was decided to extend the Island's hospitality to the outsiders (people from BattleOn), he got furious and did not share the same compassion towards outsiders, and he made the plans to curse the emperor. Kitsune vowed to do everything in his power to restore Yokai Island back to its secluded sancturary it once was.
He became the Chaos lord by Drakath. Then he wears his chaos shogun armor. Drakath convinced Kitsune that the only way to "restore" the Yokai Island would be the release of great Yokai forbidden beast, O-dokuro, from the Rift of Time. The release of O-dokuro would made the emperor bow to Kitsune once more. He puts a curse on the emperor so Ai No Miko decided to start the Dragon Koi Tournament in hopes of finding the hero who could help in the crisis.
After the Dragon Koi Tournament, he steals the prized Hanzamune Dragon Koi Blade, created a thousand years ago made by Hanzamune, from Princess Ai No Miko.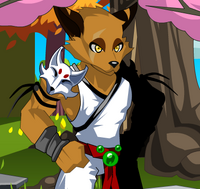 He uses the sword to call forth the
Chaos Beast
O-dokuro by opening the Rift of Time. Yokai kept on pouring through the rift, and the hero was able to close it after getting the Hanzamune Blade, which Kitsune carelessly tossed aside. After that, Kitsune regained the blade, chaorupting it in the process, and then was defeated by the hero. After Kitsune and the hero dueled, Kitsune used his strength to make himself invisible. After the hero slashes blindly, the hero accidentally opens the Rift of Time. Kitsune, who was about to run into the rift opening, was unable to stop in time, and was sucked into the rift to the Yokai World. The hero then closed the rift, sealing Kitsune inside. The emperor's spell was lifted, and the hero then defeated Ryoku before becoming the winner on the Dragon Koi Tournament. The Island of Yokai was then peaceful once again.