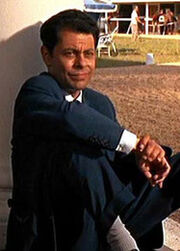 Kisch is the (former) quaternary antagonist of the 1964 James Bond movie, Goldfinger.
He was played by Michael Mellinger.
Role
Kisch was a henchman of Auric Goldfinger. He was assigned the tasks of gasing the U.S. mafia and helping out Goldfinger in his plan to raid and blow up Fort Know with a atomic bomb that will render the gold useless and raise the price of Goldfinger's value of gold. However during the final phase of the plan, Goldfinger betrays both Kisch and Oddjob by trapping them and Bond in a vault with the bomb. Realizing that they have been used, Kisch attempts to disarm the bomb to save himself and Oddjob. However, Oddjob, wanting Goldfinger's plan to succeed despite the latter's betrayal, throws Kisch off from a high altitude to his death.