Ad blocker interference detected!
Wikia is a free-to-use site that makes money from advertising. We have a modified experience for viewers using ad blockers

Wikia is not accessible if you've made further modifications. Remove the custom ad blocker rule(s) and the page will load as expected.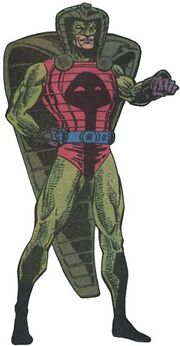 King Cobra also known as simply Cobra or his real name Klaus Voorhees, is a supervillain enemy of Captain America and the Avengers, and the leader of the Serpent Society.
Klaus Voorhees was an ex-convict who became a scientist's assistant, and helped to work on a universal snake venom anti-toxin. When Klaus became jealous of the scientist's success, he planned to murder him using a cobra. However, he himself was bitten by the cobra, which had been irradiated, and (similar to Spider-Man) Klaus gained the strength, flexibility, and reflexes of a cobra, and his bones became completely malleable. He then turned back to crime, and several times partnered up with Mister Hyde.
He was first stopped by Thor, and later to battled Daredevil and Captain America. He eventually joined the Serpent Society, then called the Serpent Squad, and rose in the ranks to become their leader.
Gallery
<null>
</null><null> </null><null> </null><null> </null><null> </null><null> </null><null> </null><null> </null><null> </null><null> </null><null> </null><null> </null><null> </null><null> </null><null>
</null>