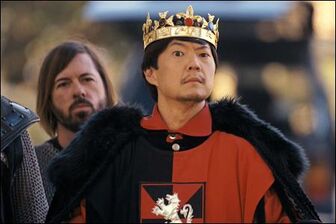 King Argotron is the primary antagonist of the 2008 comedy film Role Models, portrayed by Ken Jeong. He is the king of L.A.I.R.E. (Live, Action, Interactive, Roleplaying, Explorers).
During a "battle," one of the protagonists, Augie, sneaks upon Argotron and claims to have stabbed him but Argotron lies claiming he defeated Augie. Augie's mentor, Danny, shoves the king which results in Augie and Danny's disqualification.
Before the Battle Royale, Danny convinces Argotron to allow Augie to battle that day, which he accepts but secretly plots to "kill him" in battle. Danny, Augie, along with the other protagonists, Wheeler, and Ronnie form a country titled "Kiss-My-Anthia" after the rock band KISS. Engaging in combat, Ronnie, Wheeler, and Danny are "killed" and Augie duels with Argotron, defeating him with a "fatal stab to the chest" and winning the Battle Royale until Augie's love interest Esplen (named Sarah outside of L.A.I.R.E.) kills him after emerging from the bushes, becoming queen and later asking Augie to become her king, followed by a kiss. Argotron appears depressed over his defeat.
The "quotations" used above symbolizes that the characters weren't actually harmed, being it in a role-playing subject.