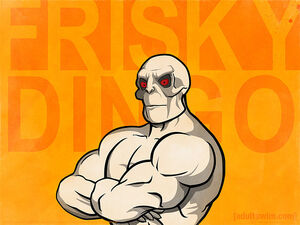 'Killface (real name: Evelyn) is the main character of Frisky Dingo. A muscular, maniacal supervillain, Killface is an alien with pale white skin, red eyes, a skull-like face, and feet resembling huge clawed talons. He talks with a British accent. Killface does not wear clothes, nor does he appear to possess external genitalia, despite having a son, Simon. He has superhuman healing abilities, having once survived most of his chest being blown away as well as surviving from a pipe jetting out of his lung (which he uses to kill a seemingly incompetent doctor).
Killface has constructed the Annihilatrix, a rocket device designed to propel the Earth directly into the sun. However, having spent $20,000,000,000 developing the Annihilatrix, Killface has insufficient funds for a media buy with which to market his global takeover.
He is revealed to be a member of an alien race, charged with destroying Earth by his mother; surprisingly, the other members of his species - like his son, Simon - are fully clothed, making his nakedness an enduring mystery.
Trivia
He was voiced by Adam Reed.