| | | |
| --- | --- | --- |
| " | The battle was a failure. The Jeedai escaped. It would seem that I was infected with heresy, or the gods would have allowed me to die in glorious battle. My failure can only serve to tarnish my domain. The name of the warmaster, whom you name friend | " |
| | ~ Khalee Lah's final words, to Harrar | |
Khalee Lah was one of the main antagonists of Dark Journey. He was introduced as the son of Warmaster Tsavong Lah and grandson of the legendary Czulkang Lah. Taller than the average Yuuzhan Vong, he was distinguished by the various spikes and horns that adorned his scarred body.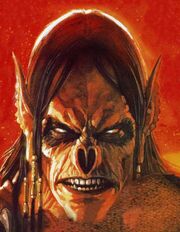 Dark Journey
In the novel, set just shortly after the fall of Coruscant, Khalee Lah accompanies the priest Harrar in leading the effort to capture Jaina and Jacen Solo in order the sacrifice the twin Jedi to the Yuuzhan Vong gods. During the attempt to recover the Trickster (the stolen vessel of Executer Nom Anor) at Hapes, Khalee Lah's forces proved no match for the Hapan fleet, and many Yuuzhan Vong ships were destroyed. Believing himself tainted by the "infidels" of the New Republic's galaxy, Khalee Lah surrendered himself to Harrar, requesting death rather than have to report failure to his father. Harrar obliged, providing Khalee Lah with a New Republic explosive with which to destroy his own ship.