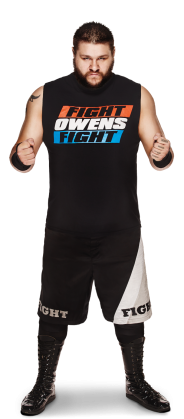 Kevin Owens (formerly Kevin Steen in Ring of Honor) is a WWE Villain who is the current WWE Universal Champion (and a former NXT Champion) who has targeted various Babyfaces from Sami Zayn to John Cena, he is a very angry, impolite, and disrespectful Heel who is full of himself and filled with Aggression. He was extremely angry in the Indies and he has turned Heel in WWE and Indies with the same arrogant and angry attitude.
Quotes
Slogan
Fight Owens Fight!
Kill Steen Kill!
Villainous Actions
Assaulting Sami Zayn but pretending to be his friend first
Wins the NXT Championship and is competely disrespectful to everyone
Assaults John Cena on his first night on Monday Night RAW and disrespects the US Title by stomping on it and mocking John Cena
Assaults Cena a second time and again stomps on the US title
Shockingly defeats John Cena on his first debut match and brags about it afterwards
Assaults Cena again leading up to MITB 2015
Assaults Cena by powerbombing him on the ring apron after losing
Assaults Machine Gun Kelly by powerbombing him through the stage.
Verbally Assaults John Cena and powerbombing him leading up to their matches at WWE Elmination Chamber 2015 and WWE Money in the Bank 2015
Mocks John Cena with you Can't see me's and The REAL Champ is here!
Being so Arrogant and full of himself but backing it up every night he appears
Gallery
Ad blocker interference detected!
Wikia is a free-to-use site that makes money from advertising. We have a modified experience for viewers using ad blockers

Wikia is not accessible if you've made further modifications. Remove the custom ad blocker rule(s) and the page will load as expected.