Kerberos is an artificial Undead born from the card Hiroshi Tennoji made from the DNA of all 53 Undead, surpassing the Black Joker itself, Kerberos was created as the fifth Ace that Tennoji intended to be the victor of the Battle Fight he set up. Unlike the previous creations, Kerberos was beyond Tennoji's control, killing his entire staff upon being born from the Stone of Sealing. The Undead succeeded in absorbing the decks of Chalice and Leangle, along with Jack and Queen cards of Garren. Kerberos even overpowered Blade King Form at first, but was defeated by Royal Straight Flush.
But Tennoji sealed the Undead himself into the Change Kerberos card for his true plan: Using a surgically graft device based on the Rider System technology to fuse with his creation, becoming Kerberos II with Tennoji's face on the monster's chest. It took all four Riders to fight Tennoji/Keroberos II, with Blade King Form's Royal Straight Flush and Wild Chalice's Wild Cyclone to negate the fusion. However, the Giraffa Undead takes the Change Keroberos for himself in the fight's aftermath for his own agenda.
Though thought to have been lost in the fight with Giraffa, the Change Keroberos was used as the Ace card for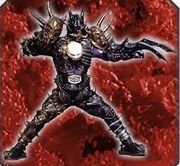 Kamen Rider Glaive in Missing Ace, with two copies of the card used in creating Riders Lance and L'arc.
OOO, Den-O, All Riders: Let's Go Kamen Riders
Kerberos: The artificial Ace Undead who somehow has control over the other Undead in the altered timeline from Let's go Kamen Riders. In Let's Go Kamen Riders, he's the representative of the Undead in the Shocker alliance council and leads them to fight against Kamen Rider Blade when the timeline is partially restored, only to be defeated.