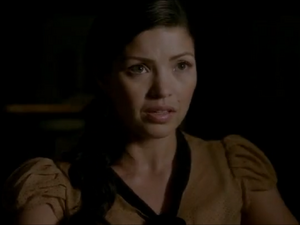 Kelsey Williams
is a villainess in the Cinemax anthology series, 
Femme Fatales
. She appeared in Season Two's "Extracurricular Activities."
She was played by Sandra McCoy.
Kelsey is a college professor having an affair with Jake Rutledge, who is married to the school's dean, Vera Rutledge. After she is threatened with termination by Vera, Kelsey approaches Chaz, one of her students who recited a story about a man who would do anything for a woman he loves (even kill), and engages in a sexual tryst with him. She tells him about her confrontation with Vera and puts the idea in his head that she has to be eliminated. Chaz kills Vera, but much Kelsey's shock, Jake is arrested for the murder. It turns out that Chaz had a crush on Kelsey and he found out about her dalliance with Jake, so he killed Vera with Jake's nightstick, framing him for the murder. Kelsey confronts Chaz after he confesses everything, but the episode ends with Kelsey and Chaz making love.
Trivia
Other than appearing on Femme Fatales as the evil Kelsey Williams, Sandra McCoy is perhaps best known to fans of Supernatural for her appearance Season Three's "Bedtime Stories" as the Crossroads Demon.
Gallery