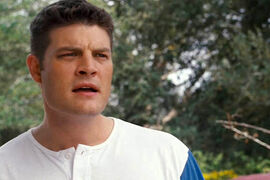 "What have you got to say for yourself?!" -
Keith yelling at the protagonist character Logan.
Keith Clayton is the villain of the book and its film adaptation titled The Lucky One. The book was written by Nicholas Sparks.
About
Keith was the ex-husband of Beth and was very controlling towards her. He threatened to take away her son permanently and one time nearly shot and killed Logan while a little bit drunk. He was a mean guy and often treated his son Ben like a servant. He seemed to redeem himself at the end of the movie being nicer and giving up being a cop. He died after Ben's tree house collapsed on him while he was trapped in the river trying to rescue Ben.