"
The Resedends of Darkness now rest in the shade where the trees bloom around the clock here Where daylight sun scorched people are delowed !!!

HAHAHAHA

"
~ Kei Himuro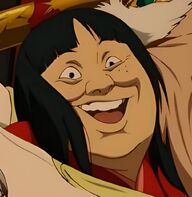 Kei Himuro is the antagonist in the Anime film Paprika
Tokita recognizes his assistant, Kei Himuro, which seems to confirm their suspicion that the theft was an inside job. After two other scientists fall victim to the DC Mini, the Chairman of the company, who was against the project to begin with, bans the use of the device completely. This fails to hinder the crazed parade, which manages to claim Tokita, who was inside Himuro's dream trying to find answers, and intrude into Konakawa's dream. Paprika and Shima take matters into their own hands, and find that Himuro is only an empty shell. 
Ad blocker interference detected!
Wikia is a free-to-use site that makes money from advertising. We have a modified experience for viewers using ad blockers

Wikia is not accessible if you've made further modifications. Remove the custom ad blocker rule(s) and the page will load as expected.