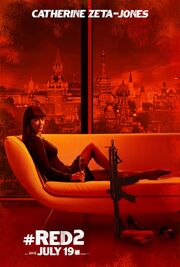 Katya Petrokovich is the quarternary antagonist of the 2013 sequel, Red 2.
Biography
Katya Petrokovich was Frank Moses' ex-girlfriend in Russia, she keeps betraying him.
Katya was willing to aid Frank, Sarah and Marvin in capturing the Frog, though she wanted to steal the key so she can follow Russia's orders.
Katya changes sides when she aids Frank and the others in retrieving Nightshade from belonging to any government, as they celebrated their victory, Edward Bailey, Nightshade's creator, revealed his true self as he shoots Katya in the stomach.
Ad blocker interference detected!
Wikia is a free-to-use site that makes money from advertising. We have a modified experience for viewers using ad blockers

Wikia is not accessible if you've made further modifications. Remove the custom ad blocker rule(s) and the page will load as expected.