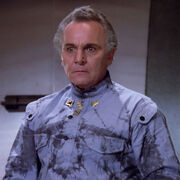 Karnas is the primary antagonist from the
Star Trek: The Next Generation
episode "Too Short A Season".
In 2319, after his father, a tribal chief on the planet Mordan IV was assassinated, Karnas responded by taking hostage 63 passengers aboard a starliner and demanding weapons from Starfleet in exchange for their release in order to crush his enemies. In order to, in his mind, preserve the Prime Directive, Mark Jameson gave weapons to both sides of the conflict, inadvertantly causing a civil war that lasted for 40 years. In 2364, Karnas, now governor of Mordan IV, took several more hostages in order to get Jameson to return to the planet so that he could get revenge on him. Jameson, however, died as a result of a de-aging drug that he was taking before Karnas could get his revenge. On seeing the suffering of Jameson, Karnas relented and released the hostages. He also allowed Jameson to be buried on Mordan. 
Ad blocker interference detected!
Wikia is a free-to-use site that makes money from advertising. We have a modified experience for viewers using ad blockers

Wikia is not accessible if you've made further modifications. Remove the custom ad blocker rule(s) and the page will load as expected.