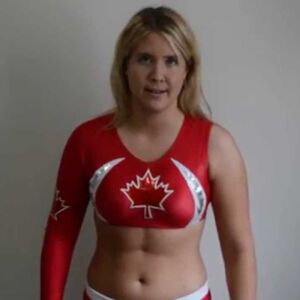 Kaitlin Diemond
is a Canadian professional wrestler currently serving as a villainess on the NCW Femmes Fatales roster. She has also competed as a masked villain known as 
Canadian Diemond
.
Kaitlin debuted for NCW Femmes Fatales in October 2013 as a replacement for Xandra Bale as Leah Von Dutch's partner in a 2 Out Of 3 Falls match against Midianne and Bettie Rage at Femmes Fatales XIII. Kaitlin and LVD won the match, 2-1, with LVD getting the deciding pin. After playing the babyface role at FFXIII, Kaitlin became a villainess in her singles match against Jasmin at FFXIV in April 2014. She acted ruthless and arrogant during the match, but it was when she cheated to defeat Jasmin (grabbing one of the ropes for leverage) that Kaitlin cemented herself as a heel.
At FFXV on August 16, 2014, Kaitlin and Addy Starr were defeated by Pink Flash Kira and Mary Lee Rose in a tag team match dubbed "Ontario vs Quebec," with the Ontarians as the villains against the homegrown Quebecoises. After the match ended, the evil Kaitlin attacked Addy and blamed her for the loss. Kaitlin would pick up another singles victory when she defeated Missy at the 5th Anniversary Show on October 26, 2014. Kaitlin has also competed for the Beauty Slammers promotion, which is also based in Canada, doing so in a mask as the villainous Canadian Diemond. In the promotion, she has competed against women such as Bambi Hall and Beautiful Beaa.
Kaitlin is mostly portrayed as a trash-talking villain, often verbally snarling at the fans in attendance. She is also a bit of a bully to her opponents, and has no problem with cheating in her matches.
Gallery