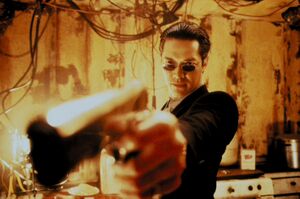 Kai is the secondary antagonist in 2000 action-romance film Romeo Must Die. He was the bodyguard of Chinese crime lord Ch'u Sing and also bodyguard to Po Sing, the younger son of Ch'u. Under orders from Ch'u Sing, he killed Po.
He was portrayed by Russell Wong.
History
Kai was a good friend of Sing who sent him as bodyguard of his son Po Sing who is heir of his father's empire when Po called Colin O'Day who worked with family business about warning about waterfront properties and gang war which planned by his father, Sing had no choice but sed Kai to kill his own son at nightclub when after a fight with the bouncers before the meeting can supposedly met Colin.
Po's brother and Sing's brother Han who escaped to USA from China to invegstion of brother's death and meeting with Colin's sister Trish O'Day who is unaware of her father's and brother's acvtives before they fall in love.
Kai worked with Mac who is a former friend of Collin to used their violence to forced to owners to sell water properties and make a gang war before Mac was shot to death. Han confronted Kai about him being responsible of his brother's murderer and he confesses that he killed Po Sing under orders by his father before he engages in a vicious fight with Han. Kai is killed after Han kicks him in the head, breaking his spine.
Gallery