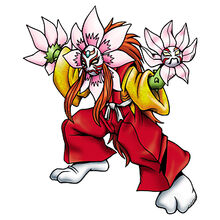 Kabukimon is a minor villain in Digimon Fusion.
Appearance
Kabukimon is a Armor Level Digimon who has lily hands and climbing arms, he is a kind of mutant.
Digimon Fusion
Kabukimon is a member of the Bagra Army. He serves as one of Musyamon's henchmen in Digimon Fusion. When he battled against the Dorulumon, could not infer that whether he destroyed.
Attacks
Gallery