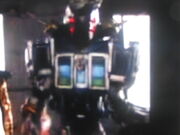 The
JunkLoid
is Metaloid created by
Enter
that appears in the Go-Busters Special DVD. It is made up of parts of previously destroyed Metaloids, and its body consists of Denshaloid's body, Tireloid's legs, Sprayloid's left arm, Tubaloid's right arm, and Needleloid's head, but is able to swap out his limbs for other Metaloid components, mainly the arms of Cutterloid and Spannerloid. It was destroyed by Red Buster and Beet Buster.
Notes
Unlike other Metaloids, Junkloid doesnt have a MegaZord counterpart.
Ad blocker interference detected!
Wikia is a free-to-use site that makes money from advertising. We have a modified experience for viewers using ad blockers

Wikia is not accessible if you've made further modifications. Remove the custom ad blocker rule(s) and the page will load as expected.