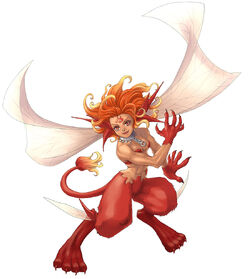 Jue is a villainess from Ys VI: The Ark of Napishtim. She is a faerie created by Ernst from red emelas. Along with Sera and Xisa, she is sent to the Canaan islands to break the seal upon the Ark of Napishtim. She first appears at the summit of Mount Grana-Vallis, where she uses one of the mirror fragments to summon a crab-moth hybrid monster to fight Adol, running away after Adol defeats it.
The three fairies break the seal upon the Ark, after which they accompany Ernst, helping him when Adol confronts him inside the Ark. After Ernst is defeated, he tells the fairies to leave the island along with his brother Geis and accompany him as his final wish.
Ad blocker interference detected!
Wikia is a free-to-use site that makes money from advertising. We have a modified experience for viewers using ad blockers

Wikia is not accessible if you've made further modifications. Remove the custom ad blocker rule(s) and the page will load as expected.