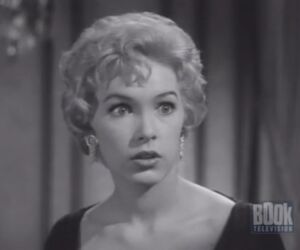 Judy is a one-shot villainess from Alfred Hitchcock Presents. She appeared in Season Five's "Craig's Will."
She was portrayed by Stella Stevens.
Judy (who narrates the events to a therapist shown in the beginning of the episode) is the gold-digging girlfriend of Thomas Craig, the nephew of deceased millionaire Walter Craig. However, she was dismayed that Tom only received one dollar as an inheritance, while Walter's dog, Casper, received a massive fortune, which goes to Tom once Casper dies. Judy coerces Tom to kill Casper so they could live off his uncle's fortune, but Tom backs out after a pair of failed attempts. Subsequently, Judy hired hitman Vincent Noonan to kill Casper, paying him $1,000 to do so. After an attempt to drown Casper turns into the dog saving his life, Vincent refuses.
Exasperated, Judy decides that she'll kill Casper herself, but when she looks at Tom and Vincent, she notices that both men look at her with extreme disapproval, while claiming that Casper was the only one who loved her, despite her fiendish attempts to eliminate him. The episode ends with Judy coming to a delusional decision: wanting to become a dog and marry Casper.