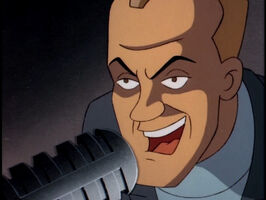 Josiah Wormwood is a trapsmaker from Batman: The Animated Series who uses death traps to get info. His nickname is The Interrogator. He used clues to lead his prey to traps.
History
Josiah made a living of making traps to interrogat his victims. One night, he setted a trap for McWhirter and got the plates. A small time hired Josiah to get Batman's cape. Josiah was defeated by Batman and later went to Stonegate.
Trivia
Josiah is similar to the Riddler since they are both intelligent and use traps. They even have similar faces.
Ad blocker interference detected!
Wikia is a free-to-use site that makes money from advertising. We have a modified experience for viewers using ad blockers

Wikia is not accessible if you've made further modifications. Remove the custom ad blocker rule(s) and the page will load as expected.