Joseph Chkheidze (code name: Hades) is a major character that appears in Call of Duty: Advanced Warfare and is the secondary antagonist of the game. He is the founder and leader of the anti-Western terrorist organization called KVA and attempts to plunge the world into darkness and set the world back into its natural state.
History 
Very little information is known about Hades' past prior to advanced warfare but he was a former Chechen separatist and had combat experience. Around the year 2041 in Chechnya, Russia, Hades and other former Chechen separatists formed the KVA as an anti-Western terrorist organization and planned to revolt against the West. He then led the KVA to evolve and become one of the most violent and radical terrorist organizations in the wolrd. On March 7, 2055, Hades and KVA terrorists launched an attack in Lagos, Nigeria and took over the technology summit that was happening in the city. Hades took many technologists and the Nigerian Prime Minister hostage but was only after a technologist who Atlas later rescued. Atlas forces soon moved in on Hades as he attempted to escape the city. He then launched a massive global terrorist attack on nuclear power plants worldwide with the intent to punish humanity for their dependency on technology, but Atlas restored order four years later.
Assassination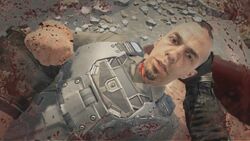 Hades was killed in Santirino, Greece where a team of Atlas operatives located him after they captured and interrogated his second-in-command Pierre Danois and were sent in to assassinate him. He instead had an imposter go to an important meeting with top KVA supporters/officials and planned an escape admist the violence and shootout between KVA and Atlas forces, but was eventually found and killed. He then alerted Jack Mitchell and Ilona that Jonathan Irons knew about his attack and allowed it to happen by giving him a hologram chip and then died.
Personality 
Hades was a fanatic extremist that hated humanity for its dependence on technology and wanted to bring down human civilization. He used violence to his gains and managed to control large groups of terrorists and managed to kill thousands in order to send the planet back into its natural state. He also was able to kill thousands if not millions in order to bring about his "utopia" however he ended up revealing Irons' plan showing that he had some sense left in him.
Gallery