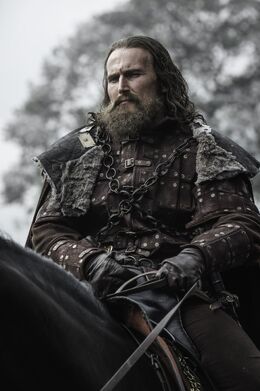 Jon Umber, better known as the Smalljon, is a character from A Song of Ice and Fire made a minor villain in Season 6 of Game of Thrones. He is the eldest son of Lord Greatjon Umber and the heir to the Last Hearth. He has other unnamed brothers and at least 2 sisters (most of the Umbers's names are still unknown). While he's a loyal person in the novels, his character has been drastically changed into a more villainous one in the television adaptation.
After the Greatjon dies during the War of the Five Kings, the Smalljon becomes the new Lord of the Last Hearth. He betrays Osha and young Rickon Stark to the Boltons because he hopes that they will help him fight the wildlings. He despises the Boltons and refuses to show them any respect. During the Second Battle of Winterfell, he is killed by Tormund Giantsbane who rips his throat and stabs him.
After the Smalljon's death, Last Hearth is given to his son Ned Umber, and House Umber renewed its oath to House Stark.
In the books, the Smalljon is not villainous at all, and in fact, he dies during the Red Wedding while still on the Starks's side.
External links
 

A Song of Ice and Fire/Game of Thrones Villains
Westeros
Essos
Far East Essos
Video Games