Ad blocker interference detected!
Wikia is a free-to-use site that makes money from advertising. We have a modified experience for viewers using ad blockers

Wikia is not accessible if you've made further modifications. Remove the custom ad blocker rule(s) and the page will load as expected.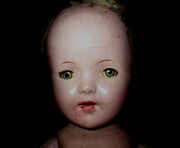 Joliet the Haunted and Cursed Doll is a doll that is supposedly possessed.  According to legend, this doll was passed on from generation to generation to expecting mothers. If the mother were to have two children-one being a boy, and the other, a girl, the child that happened to be a boy would then be stricken with a mysterious illness, and would ultimately die at the age of three days.
It's also believed that the doll would then capture the souls of the deceased children in its body, and it would then be heard crying.