The Joker is a character who originally appeared in DC comics and has made many appearances in a variety of video games throughout his career, many of these appearances can be considered either out of canon or in separate alternate realities:
NOTE: Do not add information about the Arkhamverse as it is treated as a separate mythos in its own right.
Mortal Kombat vs. DC Universe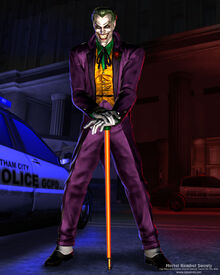 Joker
is a minor character/villain in
Mortal Kombat vs. DC Universe
. He's one of the playable characters in
Mortal Kombat vs. DC Universe.
Joker's Ending
In the Joker's MK vs. DC Universe ending, he gain new supernatural powers since after the parallel universes-merger crisis. He now uses them to ultimately enslave all of Gotham City forever, proclaiming himself "Mayor Joker". Within his chaotic city, the Joker held a new tournament in which contestants fight for his amusement, and the winner of all these challenges would have to face the final opponent, the Joker himself.
DC Universe Online
The Joker appears as a major antagonist in DC Universe Online where he acts as the mentor for villains who choose to specialize in technology.

Injustice: Gods Among Us
Main article: Joker (Injustice: Gods Among Us)
Scribblenauts: Unmasked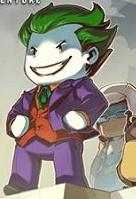 He appears in the video game,
Scribblenauts: Unmasked
, as the third antagonist.
Early appearances on older systems
While the Joker is almost a given to appear in any video game that has Batman, he has not appeared in all of them, and is not always the Big Bad. On systems and games before the modern era, he has appeared in :
Two Batman PC games from the late 80's, Batman and Batman : The Caped Crusader both of which featured the relatively primitive graphics of that era.
A TurboGrafix 16 (PC Engine) game with Pac-Man like mechanics.
Games for several systems, based upon the 1989 Batman movie featuring Jack Nicholson as The Joker. This included a full-featured arcade game.
Return Of The Joker for NES and Genesis, an unofficial semi-sequel to the 1989 film and the games based on it. Both hero and villain rely a lot more on weapons than combat, ala Contra. Each level had a sub-boss.
Two games based on the 1990's Batman : The Animated Series in its early incarnation. In neither case is Joker the central villain. Stages are based on villains' lairs and traps from the series. This appeared on SNES, Genesis and Sega-CD (Mega Drive and Mega-CD). The Sega/Mega CD version of The Adventures Of Batman & Robin had extensive animated scenes made for its cutscenes, to the point it is considered a 'lost' episode.
Batman : Chaos In Gotham for Game Boy Color. Not the central villain. These later games are based off The New Batman Adventures. Another Arkham mass breakout.
Batman : Gotham City Racer, as the name implies, a racing game, based again on the 90's animated series. For PS1. Joker and Harley Quinn had specialized race cars, similar to LEGO Batman.
Batman : Dark Tomorrow, an original video game adventure. Joker either works for or is manipulated by Ra's Al Ghul. XBox, GameCube. Plagued by plotholes stifling game play.
Batman : Vengeance, based upon The New Batman Adventures and featuring extensive cinematics based on it. While the graphics, cinematics and story were widely praised, the controls left a great deal to be desired. In this, Batman is electrocuted by his joy buzzer and Joker falls to his apparent death. But he survives.
Batman Beyond : Return Of The Joker - As in the animated feature, a reborn Joker bedevils the Terry McGinnis Batman, and his mystery is tied up in the final battle between Joker and the original Batman. For N64 and Playstation, very poorly received.
Batman : Rise Of Sin Tzu - Only a non-speaking cameo
Justice League : Injustice For All - The Joker as a member of the Injustice League aids their schemes. Based on the Justice League animated series from the 2000's. For Game Boy Advance.
Gallery
Videos
Trivia
The Joker was set up to be the main antagonist in Injustice: Gods Among Us, but was killed off to make way for the true main villain to take over; he is still, however, the posthumonous villain of the story.

This incarnation is by far one of the most cruel and sociopathic versions of the Joker to be seen.
The Joker in this game (both the normal and Regime version) was voiced by Richard Epcar, who was also the Joker's voice actor in Mortal Kombat vs. DC universe. Coincidentally, both games were made by NetherRealm Studios.

In Kano's MK Vs. DC Universe ending, he becomes a Joker-like killer in his universe.
In MK9, Shang Tsung has a Fatality where he morphs into a red-nose-and-makeup clown, and then shoots with a gun that first gives off a BANG! flag, only to then really shoot the enemy, with him giggling over it. It is very similar to Joker's MK vs. DCU fatality, and some accounts say that the programmers actually wanted Tsung to morph into the Joker, but copyright concerns arose.
Mike Matei of Cinemassacre.com appears as the Joker with his cohort James Rolfe in an Angry Video Game Nerd review of past Batman games. He taunts the Nerd, dressed as Batman, when the controls on the older games prove a frustrating challenge for Rolfe, who notably does not have Batman's self-control.