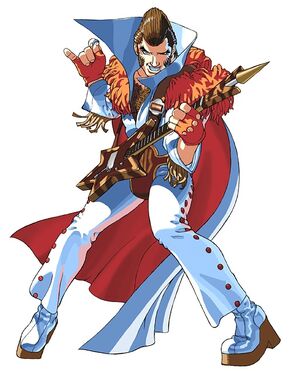 Johnny is one of the villains from Battle Circuit. Listed as criminal no. 5783, he is a member of the Delete Gang and a Elvis wannabe. The five bounty hunters from Harry's agency go after him in his disco, where they fight him. As he is defeated, he drops a disk labeled "Shiva", but before they can get it, Dr. Saturn invades the place and steals it, forcing them to chase him down. Barbara, who was Johnny's girlfriend, gets angry and chases the bounty hunters as well.
Ad blocker interference detected!
Wikia is a free-to-use site that makes money from advertising. We have a modified experience for viewers using ad blockers

Wikia is not accessible if you've made further modifications. Remove the custom ad blocker rule(s) and the page will load as expected.