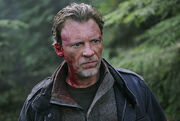 John Wakefield is the legendary serial killer in the CBS' mini-series Harper's Island. He is the biological father of the series' main antagonist, Henry Dunn.
Goal
To get his revenge on Abby.
Victims
Harris Antonini
Joshua Aiken
Randall Martin
Christopher Cullen
Sarah Mills
Kate Seaver
Peck
Cody
Ashley
Marty Dunn
Kelly Seaver
Lucy Daramour
Andrew Cullen
Deputy Garrett
Cole Harkin
Sparky Mackle
Beth Barrington
Brent Cyr
Darryl Riggens
Tyra Coulter
Maggie Krell
Sheriff Charlie Mills
Nikki Bolton
Shane Pierce
Deputy Patrick Lillis
Cal Vandeusen
Danny Brooks
Fate
Betrayed and killed by Henry.
Ad blocker interference detected!
Wikia is a free-to-use site that makes money from advertising. We have a modified experience for viewers using ad blockers

Wikia is not accessible if you've made further modifications. Remove the custom ad blocker rule(s) and the page will load as expected.