Ad blocker interference detected!
Wikia is a free-to-use site that makes money from advertising. We have a modified experience for viewers using ad blockers

Wikia is not accessible if you've made further modifications. Remove the custom ad blocker rule(s) and the page will load as expected.
Jo Gwan-woong
is main villain of
Gu Family Book
is coppurted nobleman who lusted Yoon Seo-hwa who was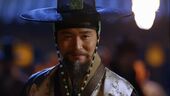 mother of Kang Chi who become his enemy
he played by Lee Seung-jae who played Cho Kyu-hwan in Public Enemy
as Officer
Jo was born to a family of low-class and grew up as high ranked officer until he sees Yeon Seo-hwa who was daughter of kind-heated nobleman caused him to greed and framed Seo-hwa's father whom he killed. and Seo-hwa and her brother along with servant Bom escpaed before she being raped by Gwan-woong and commit suicide. Seo-hwa become a gisang learns Gwan-woong was first customer  feared her life  she escaped before a gumiho fall in love with her and saves her before they were married and Seon-hwa's brother was exucted forced Seon-hwa to beatyed Wol-ryung and dies leaving Seon-hwa was pregnant with Kang-chi at time and gave brith to him
Seon-hwa dies leaving Gwan-woong had scar on his face
As Nobleman
Jo Gwan-woong become a nobleman who sent his troops to find Park Moo-sul who raised Seo-hwa's son Kang Chi then Park Mo-sul dies for protected Kang-chi's life caused him to anger as demon form in front of Gwan-woong.
he reaizled that Kang Chi tricked him and he asking head gisang to spend time with Chung-jo before she was saved Kang-chi
but unknown that Jang Myung-go is Yeon Seo-hwa who seek reveage agnaist Kwan-woong whom he met at party
Downfall and Death
Kang-chi cut Kwan-woong's arm for pay what he did for Kang-chi's loved ones
at Jail A Sad-looking Kwan-woong comfted by Chung-jo about death of his family and Kang-chi's loss of Yeo-wool who gave him posion for reveage and Kwan-Woong dies
Gallery