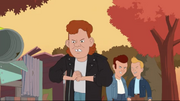 James "Jimmy" Fitzsimmons
is the resident bully from the Netflix cartoon "F is for Family" who often picks on Bill Murphy. Jimmy is the most foul-mouthed and feared youth in the town.
As such, he enjoys taking great pleasure in intimidating and/or physically hurting other kids, especially Bill and not showing any remorse for it. He's good at wood shop and likes drinking, smoking, and wanking it to porn magazines he kept in his club house that was destroyed in episode 5. As revealed in episode 6, Jimmy is an altar boy.
Ad blocker interference detected!
Wikia is a free-to-use site that makes money from advertising. We have a modified experience for viewers using ad blockers

Wikia is not accessible if you've made further modifications. Remove the custom ad blocker rule(s) and the page will load as expected.