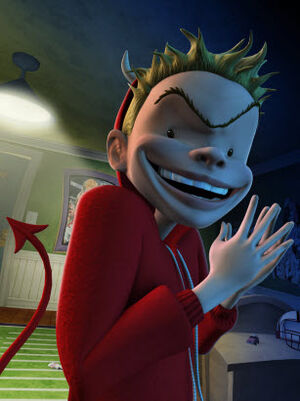 Jimmy Brando is the main antagonist of the first two Scary Godmother books, as well as their cartoon adaptations. He is the abusive and negligent cousin of Hannah Marie.
History
Jimmy was Hannah Marie's older cousin whom he didn't want to take trick or treating with him and his friends. As a result, he and his friends try to scare Hannah and lock her in the old mansion. However, Jimmy later tried to make a vote on who should go in and retrieve her after she didn't come back. When Hannah told Scary Godmother and her friends where they were, they give them a taste of their own medicine.
After the first book, Jimmy was still terrified of the monsters, Bug-A-Boo in particular. He then came up with the solution to stop Halloween from coming. He later vandalized the Halloween candy and costumes at the store, and he also tried smashing all the pumpkins and tepees the old mansion. Whenever Jimmy tried to ruin Halloween, it caused disastrous results in the Scare World. Fortunately, for Scary Godmother and friends, Hannah came up with clever ideas on how to work around the problems. When the Halloween party is thrown, Jimmy's final attempt to prevent the holiday from coming was to steal the grand prize. Harry, however, tackles him when he finds out that there was candy inside of it. Harry is thrown out of the house, and Bug-A-Boo arrives. Jimmy screams the moment he saw Bug-A-Boo and he unwittingly managed to scare him. As a result, he wins the scaring contest and receives the grand prize. His love for Halloween was later restored, and he started to be nicer towards Hannah.
Trivia
He was voiced by Will Friedle.