Jigsaw (Marvel)
Talk

0
22,410pages on
this wiki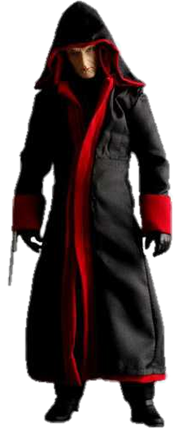 "From now on, call me Jigsaw."
— Jigsaw
Jigsaw is a vicious criminal from the Marvel universe who is the archenemy of sorts to the violent vigilante known as the Punisher - he is one of the very few criminals that the Punisher has faced several times without being able to kill, his name is derived from the horrendous scars that cover his face due to a previous run-in with the Punisher.
Biography
Prior to his run-in with the Punisher Jigsaw was actually considered an attractive man and was used as an assassin for the Maggia (Marvel's version of the mafia) - he would not be detered by his scars however and actually took them to his advantage and renamed himself "Jigsaw", understandably he has a deep hatred of the Punisher and has tried to kill him, frame him for crimes and generally make his life miserable for what he did to him.
Apppearance in other media
Movie appearance
Dominic West portrays Jigsaw in the film
Punisher : War Zone
, though the character's real name has been changed slightly to Billy "The Beaut" Russoti.
 In this film, while attending a meeting, the Punisher attacks and kills a mob family. Billy escapes and is pursued by the Punisher. Later, Billy accidentally falls into a glass crusher, and the Punisher turns the machine on which grinds him around multiple times against broken glass bottles. Although Russoti does not die, his face is horrifically mutilated, leaving him permanently disfigured. However, his plastic surgeon is unable to restore his face, stating that Billy's facial muscles, tendons and skin were damaged beyond repair, leavig his with his trademark disfigurement. After killing the surgeon, he chooses to remain focused on killing the Punisher, going under the name "Jigsaw". He then breaks his mentally unstable brother, James "LBJ/Looney Bin Jim" Russoti, out of a mental hospital and they plan their revenge on the Punisher. He is eventually impaled on a sharp metal pole by the Punisher before he is thrown into a fire, killing him in the final battle at the Brad Street Hotel.