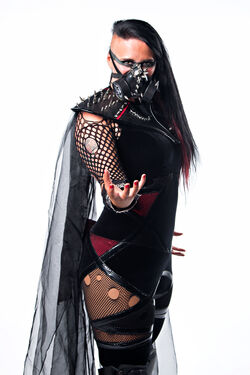 Jessicka Havok is a professional wrestler who has competed in several promotions in the independent scene. She has als competed in TNA and is a former TNA Knockouts Champion. Havok portrayed a major villainess in the Knockouts Division and in other promotions.
Havok is best known for her time in the New Jersey based Women Superstars Uncensored promotion, where she was one of two women to have held every title. She had a reign as WSU Tag Team Champion with Hailey Hatred, but it was in her most notable role as the leader of the Midwest Militia that she captured the WSU Spirit Championship as well as the WSU World Championship. Havok defeated Mercedes Martinez to win the title for the first time, but would lose the title to her shortly afterwards. She regained the title in 2012 and held it for two years, during which she underwent a babyface turn while feuding with Sassy Stephie.
After weeks of promos teasing her debut in TNA, Havok officially debuted on the September 3, 2014 edition of Impact Wrestling; appearing after the Knockouts Championship match between champion Gail Kim and challenger Taryn Terrell. She later entered the ring and attacked both Knockouts; cackling maniacally while doing so. On the following week's edition of Impact Wrestling, Havok reappeared after the announcement that Velvet Sky would be gracing the 2015 Knockouts calendar, only to be attacked by Gail. After shoving Gail aside, Havok entered the ring and attacked Brittany, who was shoved into her by The Beautiful People. She would later steal Gail's Knockouts Championship, which prompted a chase that resulted in another brawl. Security guards broke up the brawl, only for Havok to attack two of them.
On September 24, Havok won a #1 Contender's Battle Royal by lastly eliminating Velvet Sky. On the following week, the evil Havok attacked Gail before their originally scheduled Knockouts Championship match was to take place, separating Gail's shoulder. The match took place at the main event, at the insistence of the injured Gail, and Havok would defeat Gail to capture the Knockouts Championship. Havok retained her title against Knockouts such as Gail, Velvet Sky, and Madison Rayne, before losing the title to Taryn Terrell on November 19.
Havok always wears a gas mask to the ring; showing off a look similar to Batman villain Bane. Among her villainous traits are destroying various women (and some men); all the while enjoying delivering pain and anguish to her victims.
Gallery