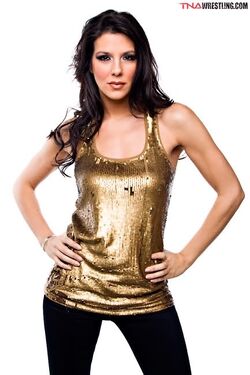 Jenna Morasca is a former contestant from the hit reality show, Survivor, who briefly appeared as a recurring villainess for TNA Wrestling. She was portrayed as the financial supporter for the villainous Main Event Mafia faction, brought in by member Kevin Nash, who she mostly managed. During her stint with the faction, Jenna lured Samoa Joe into joining the group, and she mainly clashed with fellow member Sharmell. It reached a point where Jenna enlisted Awesome Kong to train her to wrestle for her match against Sharmell at Victory Road. Jenna defeated Sharmell at the PPV, which was her last appearance for TNA.
Jenna is one of three women to have been a member of the Main Event Mafia; the other two being Sharmell and Traci Brooks.
Gallery
Ad blocker interference detected!
Wikia is a free-to-use site that makes money from advertising. We have a modified experience for viewers using ad blockers

Wikia is not accessible if you've made further modifications. Remove the custom ad blocker rule(s) and the page will load as expected.