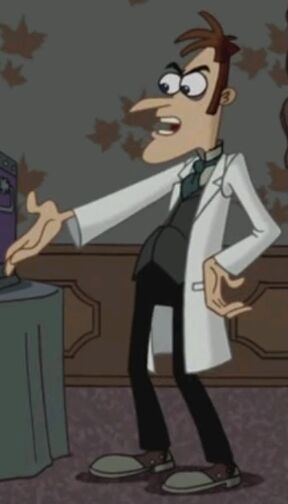 Jekyll Doofenshmirtz is the main antagonist of the Phineas and Ferb episode, The Monster of Phineas-n-Ferbenstein. He is known to be the Victorian ancestor of Dr. Heinz Doofenshmirtz.
Role
During a storm that is causing his apartment's security system to go haywire, Doofenshmirtz tells his nemesis Perry the Platypus the story about Jekyll: during his times, Jekyll was considered to be the most evil scientist of his time; he would have to get an angry mob's attention to do so. To that end, Jekyll created a machine-brewing potion could turn someone into either a fairy princess or a monster. When the angry mob showed up at his house for their appointment, he drank the concoction the machine produced to show off the invention. However, the dial was turned to fairy princess, thus ruining his chance to be a real evil genius. The mob left, annoyed with the supposed failure of Dr. Jekyll's invention. Realizing the problem, he quickly changed the dial to monster and drank the concoction, this time, finally transforming into a monster. Delighted that he has finally succeeded, Jekyll ran through the village spreading evil, though he was actually doing childish pranks rather than just doing a real evil havoc.
However, during his reign of havoc, Jekyll ends up upsetting the platypus monster, who chases after him. Later, at the monster ball Dr. Jekyll is back to normal, hoping to use his machine to help him win the contest but ends up meeting the platypus monster again; immediately, the monster begins to beat him up. After asking for a time-out to go get a drink, Jekyll once again drinks his invention's brew, but ends up turning himself into a fairy princess. Jekyll set the dial back to monster again, but before he could get another drink, the platypus monster grabs him. Back to the present, Doofenshmirtz admits that he forgot what happened to Jekyll afterwards, but it is implied that the platypus monster has eaten Jekyll, as the platypus monster coughed out a magic wand during the end of the episode.