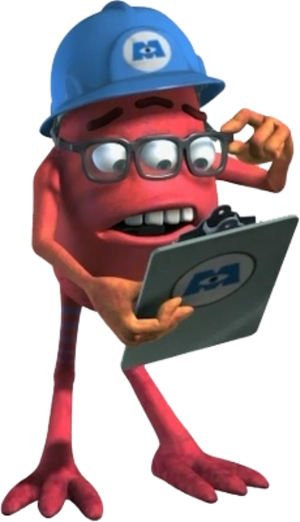 Jeffrey "Jeff" Fungus is the (former) tertiary antagonist of Monsters, Inc. He is Randall's former henchman.
He was voiced by Frank Oz.
Biography
At Monsters Inc., Fungus was assigned to become Randall's assisant, Despite being partnered with Randall, Fungus doesn't seem to like Randall due to the latter's constant abuse towards him, though Fungus is cowardly to speak out on this.
It later turns out that Fungus was involved of a plot engineered by both Randall and Henry J. Waternoose III to kidnap several human children and use a harmful machine called that Scream Extractor that will render scaring tactics useless, as the company is facing an energy crisis. Despite his involvement, Fungus is shown to be quite uncomfortable with this as the machine was previously used on him, which almost drained his energy out, even feeling guilty when Randall orders him to activate the machine on a little girl named Boo.
However, Mike and Sulley manage to stop this by sending Randall to the human world and having Waternoose arrested. It is unknown what happened to Fungus afterwards, but it turns out that Sulley (as the new CEO) has pardoned Fungus for his involvement and gave him (and the rest of the monsters) the job of making children laugh, which manages to help the company avert the crisis for good. As such, Fungus is finally happy that he's free from Randall's control as he helps make children laugh to collect enough energy.
Personality
Fungus doesn't stand up for himself very often, mainly because he is scared of Randall due to the latter's short, explosive temper. He is much pleased to be saved from such wicked leaders as Waternoose & Randall, and became a comedian at the laughter-changed Monsters, Inc.
Appearance
Fungus is a red monster with 3 brown eyes and chicken-like legs. He wears glasses with 3 lenses.
Gallery
Ad blocker interference detected!
Wikia is a free-to-use site that makes money from advertising. We have a modified experience for viewers using ad blockers

Wikia is not accessible if you've made further modifications. Remove the custom ad blocker rule(s) and the page will load as expected.