Jimmy Peake
alias
Jazzman
was a mobster from Gotham City and an enemy of Batman in
Batman: The Animated Series
. He had an odd eccentricity of using several of music-related terms in his speech although he's not theme Batman villain like the
Joker
,
Penguin
or
Two-Face
and has a grudge againt Commisioner Gordon.
History
Six years ago, Peake was a gangster from Gotham who had a part in an illegal smuggling scheme in which Jimmy said he would have made a lot of money but was arrested by Lieutenant Gordon. From that, Jimmy swored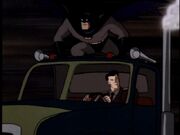 vengeance on Gordon. After six years, Jimmy tried to get revenge on Gordon by seting up drug deal which was a trap for the GDPD. Batman came threw tear gas inside the building Jazzman and his men were in. Peake tried to escape and get Batman of his tail. Jimmy and his men were arrested but it came with a price, Gordon was injured on the job.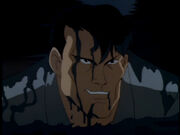 Summer Gleason interviewed the Jazzman and he commented "Let's just say it was time to pay the piper. " Judge Vargas sentenced Jimmy Peake to Stonegate Penitentriay because Gotham Jail was overcrowded that time. Jimmy planned to escape jail and to kill Gordon before he flees Gotham. He escapes Stonegate through the sewers and heads for the hospital that Gordon is in. Jazzman arrived at the hospital with a gun and knocks the window cleaner unconscious and steals the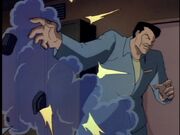 cleaner's platform.
Jimmy gets to Gordon's level and points the gun at Gordon while he's sleeping however Batman comes on time and fights with the Jazzman. Batman throws the Jazzman into Gordon's room in which pushes a security guard and Barbara away. Barbara protects her father by shielding him with her body and Jimmy picks up his gun and tries to shoot Gordon but Batman throws a batarang directly at the gun which causes the bullet to backfire and destroyed the gun. Harvey Bullock comes to Gordon's room with guards and the Jazzman was arrested again.
Trivia
He was voiced by Brian George.